Sparkly Bird
Written and Directed by Kat Lee-Ryan
Words and Music By Kat Lee-Ryan 
Music performed by The Fabulous Red Diesel
Dancer Aerialists-Miz Wells and Catherine Ben Abbes  
Narrator Simon Goodman
www.sparklybird.co.uk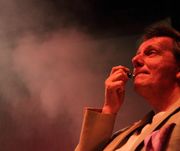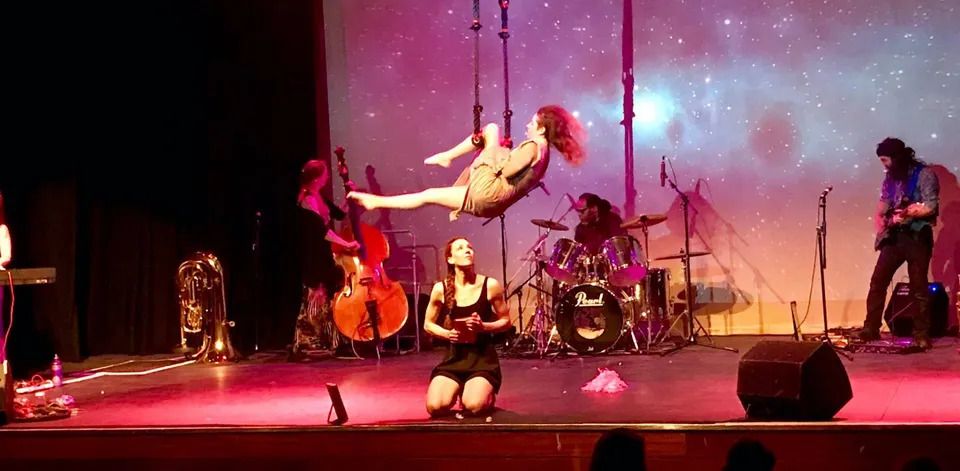 On 7th December 2004, a 43 year old woman hung herself from her loft stairrs. She was found hours later by her husband, who had no idea that she was anything but content. She had a beautiful home, good marriage, lovely son and a rewarding job, so what caused her to do such a violent and destructive act. ? Sparkly Bird is the collection of evidence, the examination of cause and motive, and the journey her family took to find peace for themselves. 
The Story is told in 12 songs, with  1 dancers, one aerialist one narrator and one band- The Fabulous Red Diesel.
The songs are written by Kat Lee-Ryan, and the story is true.
Comments-

''I think this is the most beautiful thing I have ever seen or experienced. Thank –you – I think this will save my life''

''Sparkly Bird at The Stables. Wow! What an incredibly brave, poignant, moving and uplifting show. Kat Lee-Ryan your songs, your band and incredible singing (along with Jackie Rawe) were just stunning. Your dancers and the choreography (Joanna Poulton and Ruby were spellbinding - I was so moved I had to make a sharp exit. Many congratulations and I hope you perform it again soon xxxx ''❤️''
''Sparkly Bird will hit your heart hard, it will touch every emotion that you can imagine. If this show doesn't touch you in some way or other, then you surely are not of this world.''

''The music was so moving and also so uplifting. The dance also. It was utterly amazing and your singing just beautiful - I am still overwhelmed - thank you''
For bookings and more info contact thefabulousreddiesel@yahoo.com
for promo video and music click here  https://www.youtube.com/watch?v=LGFYgrLQt14
For Facebook click here https://www.facebook.com/Sparkly-Bird-1757288447850270 
For tech spec email thefabulousreddiesel@yahoo.com